TRADITIONAL JAPANESE EMBROIDERY is taken from the Kimono and from costumes of Kabuki and No drama. The work itself is a discipline and most likely will be different from any you have experienced before. The method of framing up, the procedure, and working order in the class will all be a new embroidery experience. The 46 techniques learnt over 9 phases will give the Embroiderer a foundation for working with the beautiful Silk Fabrics, Flat Silks & Metal Threads.
A "morning talk" is presented to the class each day on an aspect of Japanese culture to help the students learn Japanese Embroidery in context with the Japanese tradition.
The silence necessary for Japanese Embroidery concentration means that there is real thinking done by the student and no neighborly advice. The teacher sets time at the end of the day for your inquiry and is aware if the students are in difficulty, but often more times than not you are capable of working it out. The teacher may sound regimented, strict with no instant clarification although a progression comes with each piece. I have been taught by the masters Mary-Dick Digges and the Tamura Family and it is the way it has been handed down from Master Iwao Saito. I take Japanese embroidery very seriously and I take great joy in sharing it with others.
The Certificate course offered by the Japanese Embroidery Centre consists of ten Phases over several years and involves forty six stitching techniques. The students have a choice of different designs of a piece at each phase level and may select their own colours and silk fabrics. Many further phases can be worked by the student on her own and a keen student will also undertake Practice, Challenge and Creative designs.
Course Phases - Embroidery
Pre-Phase New Encounter
Phase 1 Flower Circle Bouquet from the Heart of Japan
Phase 2 Suehiro
Phase 2 & 3 Sensu
Phase 3 Venerable Friends with Chrysanthemum
Phase 4 Four Seasons
Phase 4 Genjiko
Phase 5 Resonance Cords
Phase 6 Eternal Grace
Phase 5/6 Tagasode
Phase 7 Camellias
Phase 8 Queen of Flowers
Phase 9 Konbuin–no–fukusa - Sake Box with Ladle
Phase 10 Double Cypress Fans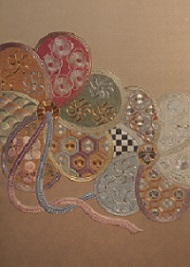 "Blossom of youth"
Fabric - Pink Nishijin
JEC © Bead design stitched by HJS

"Gold Work"
ONDORI Book pg 61
JEC © stitched by HJS
Phase #8
"Crane with Reeds"
Fabric - Crepe dyed
JEC © Stitched by HJS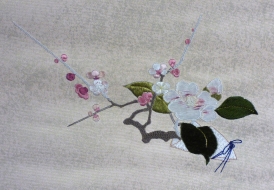 "Dancing of Flowers"
JEC © Stitched by HJS


"Folding Screen - Spring"
Fabric Nishijin - Gold
JEC © stitched by HJS